A cluster is usually a location (this may be a campus) where representatives of government, knowledge and science as well as entrepreneurs 'cluster' together in order to move forward together in developing and marketing innovations. There are numerous water clusters worldwide. On the opening day of the 2nd European Water Technology Week (EWTW), held at the WTC Leeuwarden from September 19 to 22, representatives of these clusters from all over the world spoke about cooperation in their water sector.
The water clusters present in Leeuwarden in September were not all set up alike but the main goal is the same everywhere: support for many small water-tech companies in their international adventure. Just like Water Alliance for the Netherlands. What was special was that all these clusters were gathered in Leeuwarden in September to boost the development of new sustainable water technology. Demand is high and companies should position themselves better by using those clusters to represent themselves more in local markets.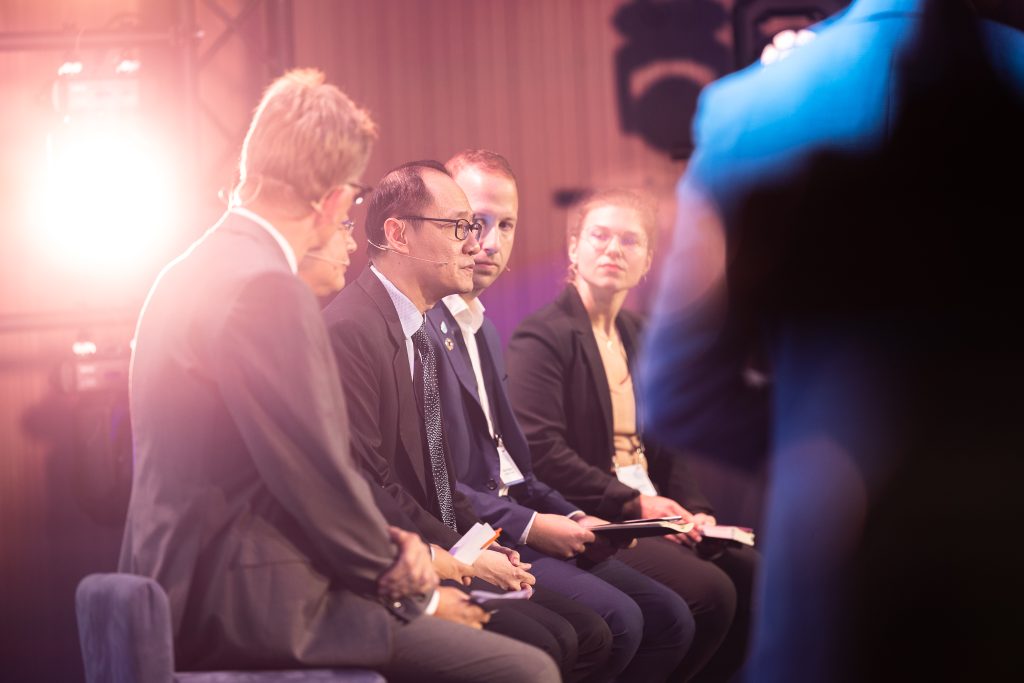 "Actually, I don't care if it's an American or a foreign company. As long as our problem with the algae bloom on Lake Erie is solved," stated Samantha Martin of the Cleveland Water Alliance. America's Great Lakes are highly eutrophied, which often causes algae blooms and forces drinking water utilities to close their intakes. "Our utilities are very conservative when it comes to new technologies," Martin said. "That's why we have engaged IoT companies that can create links between new sensor techniques and the utilities ICT. We are now looking for innovative techniques to combat algal blooms. Also here in the Netherlands," she informed.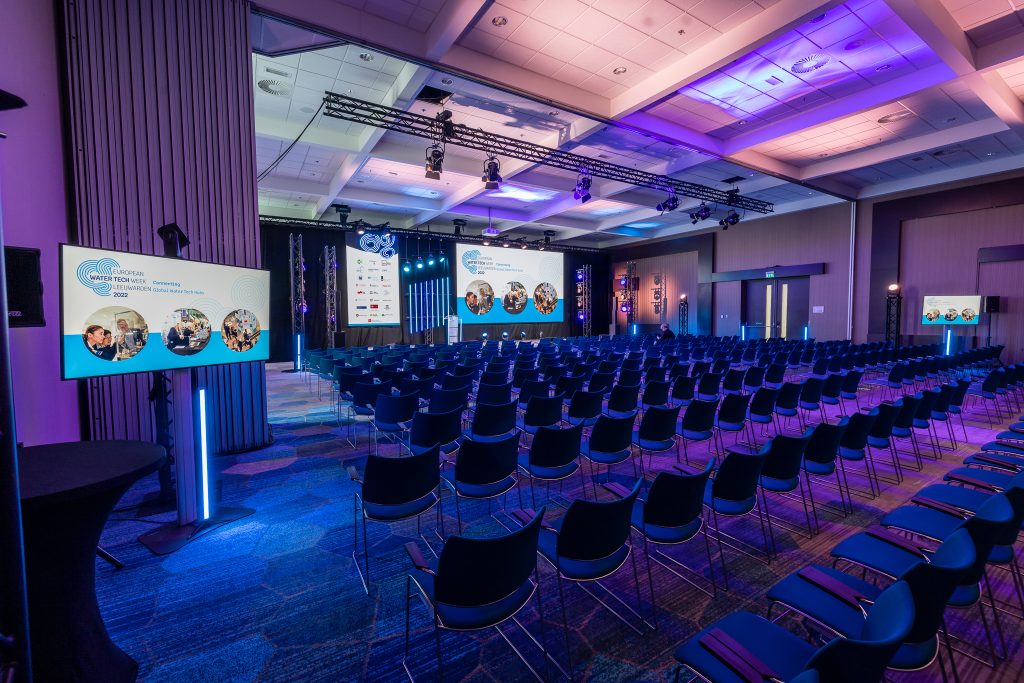 Carbon footprint
The Cleveland Water Alliance is strongly clustered around a specific water problem. Other foreign clusters have different emphases. Singapore water company PUB, for example, is particularly interested in start-ups with new technologies that want to test their innovation in real life on the Singapore water network. "For 20 years, we have been inviting small foreign water technology companies to participate in our research program," PUB's Tiing Liang Moh told Leeuwarden. "That has already led to cheaper membrane technology. Now we are looking for innovations in the field of reducing CO2 emissions from our water sector and innovations or coastal protection."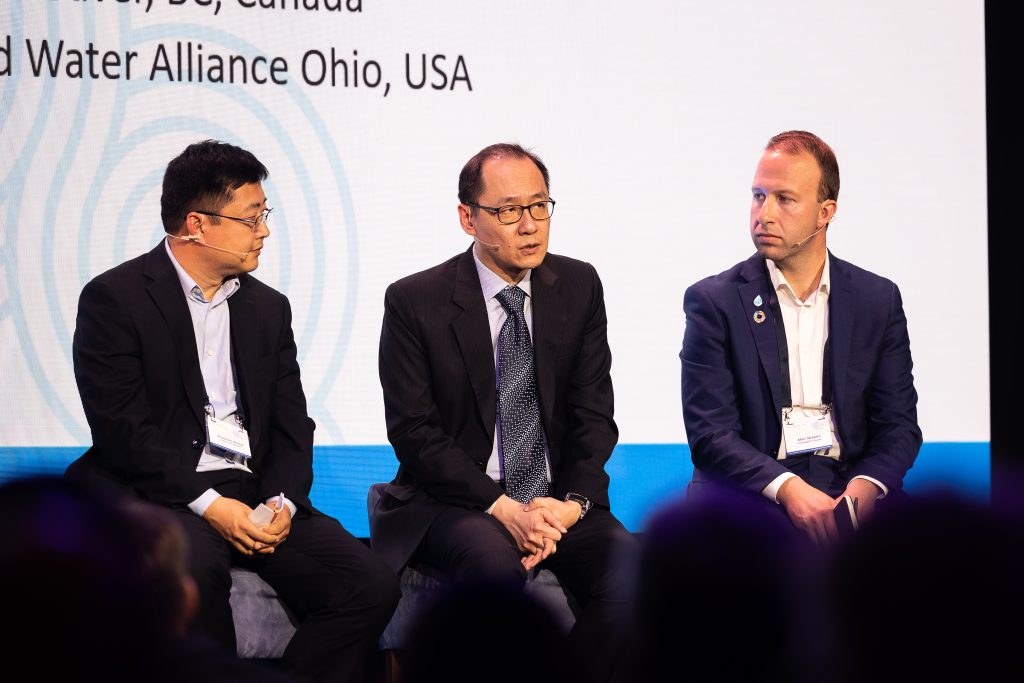 Network
Out of the contributions from the representatives of the foreign clusters it became clear that international cooperation is developing rapidly. In particular, the activities of the American cluster The Water Council from Milwaukee stand out. The cluster has already helped Dutch companies such as Hydraloop and Wafilin establish a network in the U.S. water market. However, these services are not limited to Dutch companies alone. It emerged at the EWTW that from its European office in Ireland, The Water Council is now also helping Danish and French water-tech companies get a foothold in America.

Driving force
Director René Buck of BCI Global addressed in his lecture the important role that clusters play in innovation. According to him, science parks, campuses and clusters are more than a collection of boring buildings. "By collaborating with people from different disciplines, you organize coincidence in the hope that new solutions will be invented," Buck said.
"The whole world is shy of clean water. There is an urgent need for smart solutions," he noted. "But if the problem is so extensive why aren't those solutions in place yet?" he wondered. "Water is cheap so the incentive to innovate is not that great. There are many small water-tech companies but for global solutions you need a lot of money. You also need launching customers. One way to overcome these barriers is to work together in clusters ". According to Buck, companies need to stay alert when collaborating with competitors. "But there are plenty of models that have proven successful and can lead to new products," he assured.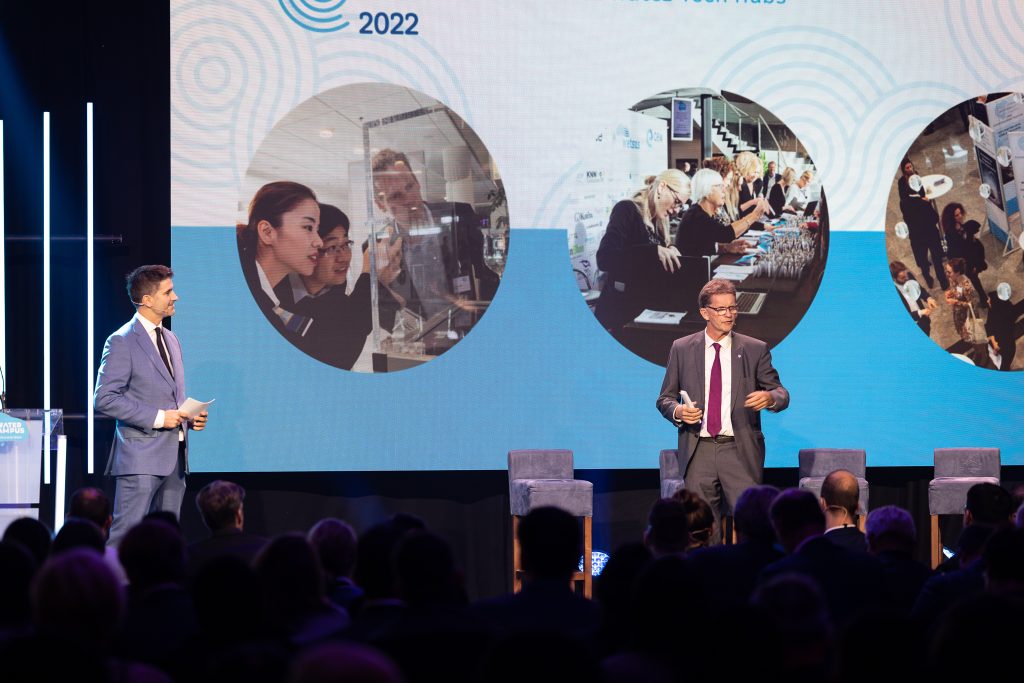 It was the second time the water-tech clusters gathered in Leeuwarden. "The first time was very spontaneous with the goal of building a global network," Water Alliance director Hein Molenkamp. This time, many more clusters were invited. Besides Asian and North American clusters, mainly European clusters were present. "During the corona crisis, we met regularly in webinars but contacts with Asian countries, such as South Korea, decreased. There you notice the importance of the physical presence ", Molenkamp said. The idea of working together to promote top talent has also faded into the background. Molenkamp hopes to pick that up again soon.

Many clusters are a collaboration of companies to strengthen exports. Cooperation between companies, science and government focused on innovations and bringing them to the market faster, such as at the Water Campus Leeuwarden still remains quite unique.
EWTW facts and figures:
💧 1 congress
💧 1 exhibition floor
💧 3 awards
💧 3 days
💧 5 plenary sessions
💧 15 clusters
💧 26 parallel sessions
💧 31 nationalities
💧 110 international speakers
💧 500+ visitors per day
💧 countless lasting connections
Source: WaterForum, Jac van Tuijn, translated from Dutch