From 19 to 22 September the global water technology sector gathered in Leeuwarden, the Netherlands, the capital of water technology. As inspirational places go European Water Technology Week certainly held a spot right up there. The varied programme drew an audience from around the globe. Leeuwarden, hospitable as ever provided a great setting to meet up, renew contacts, exchange knowledge, inspire and be inspired.
EWTW focused on all aspects of water technology from science to business, just like the ecosystem at the WaterCampus. The opening ceremony featured public figures like Mark Harbers, Dutch Minister of Infrastructure and Water Management, Thecla Bodewes, Manuela Geleng, Director for Skills at the Directorate-General for Employment, Social Affairs and Inclusion and Sybrand Buma, mayor of the capital of water technology Leeuwarden. Mark Harbers spoke amongst others about the current state of affairs: 'It used to be about keeping dry feet, now it is about savoring every drop'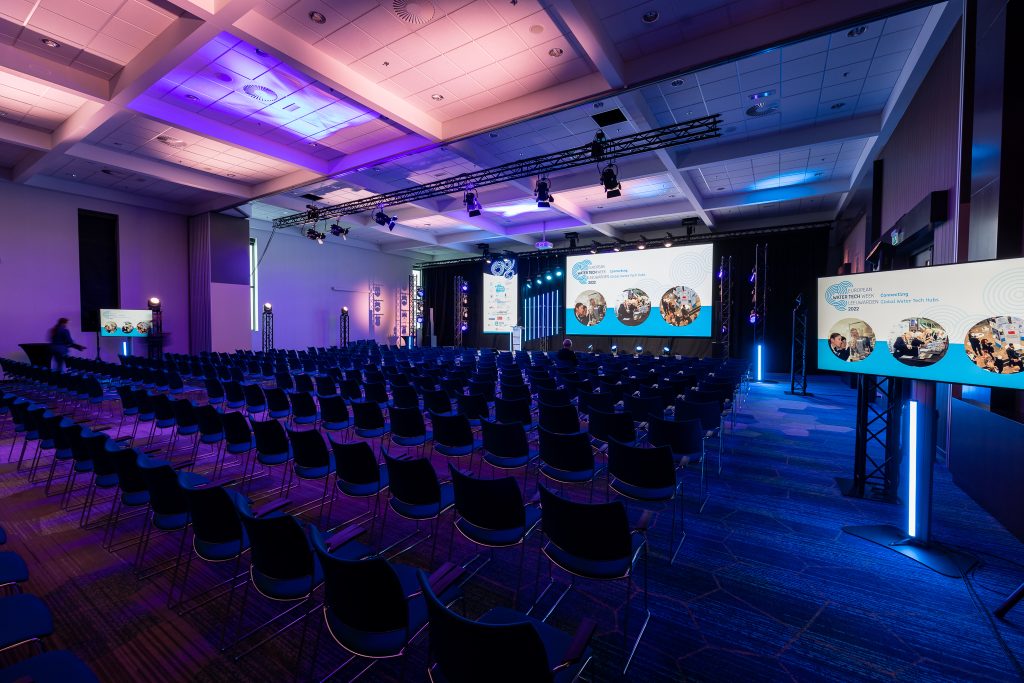 During the 'search for accelerated implementation of innovations session', René Buck from BCI Global, certified as one of America's 𝗯𝗲𝘀𝘁 𝗺𝗮𝗻𝗮𝗴𝗲𝗺𝗲𝗻𝘁 𝗰𝗼𝗻𝘀𝘂𝗹𝘁𝗶𝗻𝗴 𝗳𝗶𝗿𝗺𝘀 by the prestigious business magazine Forbes, captivated the audience with his insights, like the five golden rules for international co-operation, a focus action plan, concentrate on companies with an internationale drive, develop trust, create platforms for all stakeholders, seek financial support.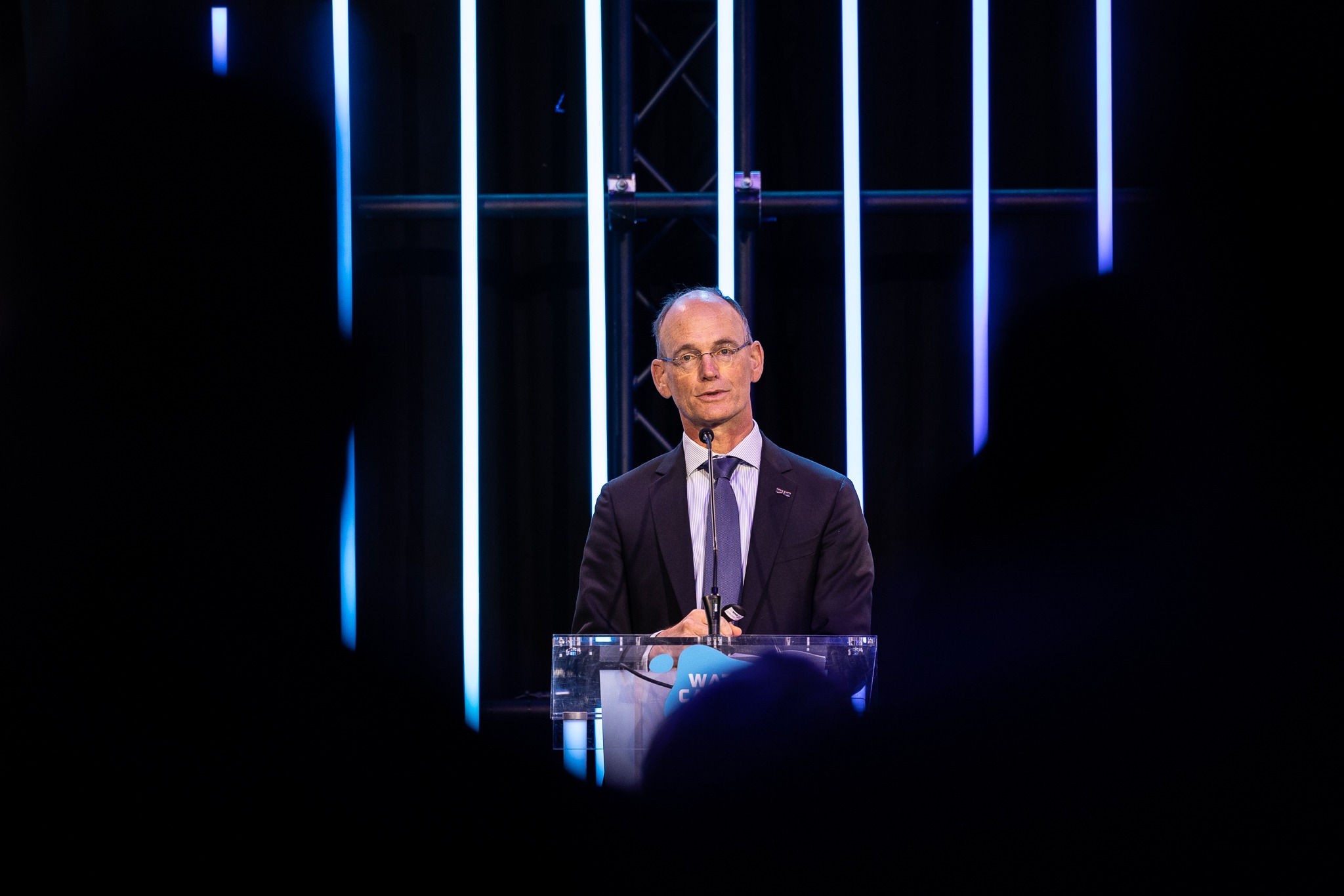 Water Alliance director Hein Molenkamp and co-host Tom Freyberg further dived into the importance of connecting global water tech hubs and how alliances are formed, the first panel discussion featured MOH Tiing Liang, PUB Singapore, Shiaoxian Zhang, Jiangsu Cluster China, Alan Shapiro, WaterNext Vancouver, BC, Canada and Samantha Martin, Cleveland Water Alliance Ohio.
One of the many of highlights of the Monday was the WIS Award specifically the audience award, worth €2.500 marketing support. As the Grand Finale was on day 3 with a professional jury, the Monday saw the most important jury of them all cast a vote, the audience.
In the morning Cees Buisman from Wetsus talked about innovation, 'when you've haven't been ridiculed, you are not innovating'. Opening statements from Tom Freyberg and Jelmer Hobma further set the tone for the day. As one of the great inventors Edison told, 'there's a way to do it better, find it.' It sounds so easy, but innovators know, success isn't easy. Edison failed more than a thousand times, still kept going, be it on perseverance and for the love for his work. The eight innovators sat on the front row of the stage know what that is like, as they also found a way to do it better.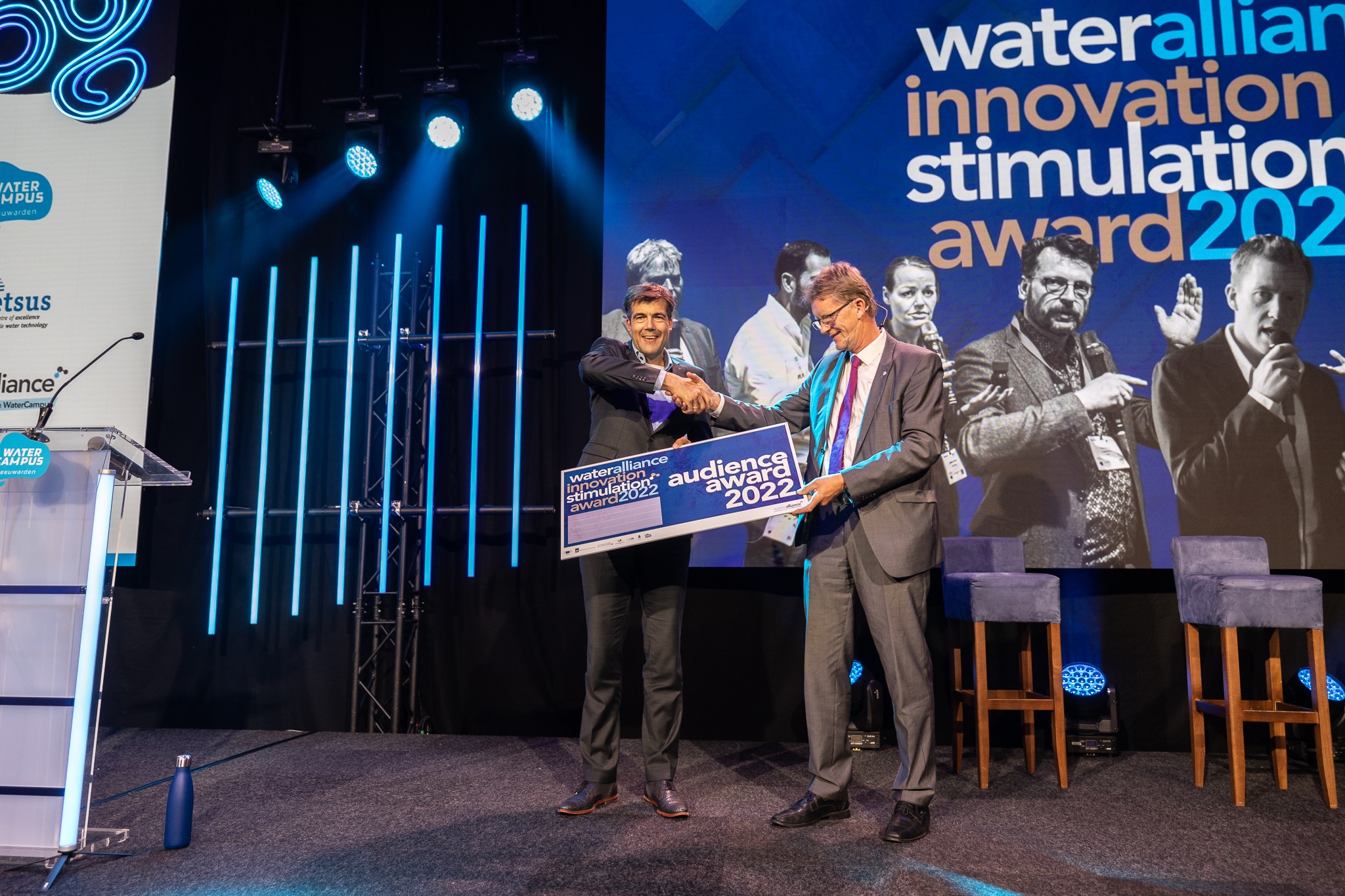 After a digital voting format had unexpected adverse results, voting was done by an old-school show of hands, as intended just for the audience present. Sometimes the old ways are still the best. In the end Joost Paques from Paques Biomaterials, with the slogan nature's solution to plastic pollution won, and was awarded the cheque by Water Alliance director Hein Molenkamp. In the end Mr Paques was not the only winner as the audience got their money's worth of entertainment.
On day 2 of 𝗘𝘂𝗿𝗼𝗽𝗲𝗮𝗻 𝗪𝗮𝘁𝗲𝗿 𝗧𝗲𝗰𝗵𝗻𝗼𝗹𝗼𝗴𝘆 𝗪𝗲𝗲𝗸, spirits remained high and the energy continued to flow with 12 parallel sessions and two keynotes by dr. Lan Wang-Erlandsson and prof.dr. Anita Hardon, EWTW catered to diverse interests from science to business, with sessions like 𝗵𝗮𝗿𝗻𝗲𝘀𝘀𝗶𝗻𝗴 𝘁𝗵𝗲 𝗽𝗼𝘄𝗲𝗿 𝗼𝗳 𝗰𝗿𝗲𝗮𝘁𝗶𝘃𝗲 𝗰𝗼𝗻𝘁𝗲𝗻𝘁 & 𝘀𝘁𝗼𝗿𝘆𝘁𝗲𝗹𝗹𝗶𝗻𝗴 and 𝗼𝘃𝗲𝗿𝗰𝗼𝗺𝗶𝗻𝗴 𝗯𝗮𝗿𝗿𝗶𝗲𝗿𝘀 𝗳𝗼𝗿 𝗲𝗳𝗳𝗲𝗰𝘁𝗶𝘃𝗲 𝗶𝗻𝗻𝗼𝘃𝗮𝘁𝗶𝗼𝗻.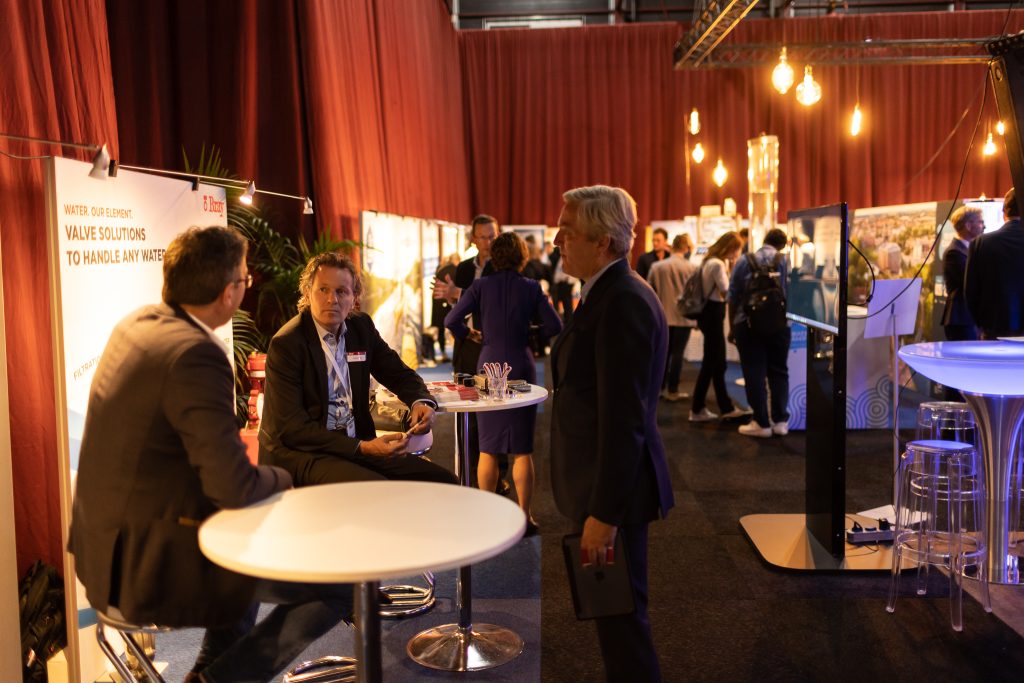 Knowledge gathering was just a fraction of the EWTW programme, this became clear when you took a peek at the exhibition floor. With more than 50 exhibitors, 𝘁𝗵𝗲 𝗳𝗹𝗼𝗼𝗿 was 𝗯𝘂𝘇𝘇𝗶𝗻𝗴 𝘄𝗶𝘁𝗵 𝗮𝗰𝘁𝗶𝘃𝗶𝘁𝘆, networking by individuals, between clusters, water tech companies and more. Also 𝗪𝗮𝘁𝗲𝗿𝗠𝗮𝘁𝗰𝗵 𝟮𝟬𝟮𝟮, the official EWTW side event, gathers more than 100 participants from 30 countries. As a matchmaking event it provides the perfect setting for relevant one-on-one meetings, not just physically at EWTW but also continuing online.
Ruth McNeil: 'I met with Patryk Wójtowicz from the Finish water cluster Kuopio Water Cluster, we had a great conversation, we talked about their Water Lab and the possibility of them joining the Water Test Network in 2023′
Listening to conversations, WaterMatch was a fruitful place where new collaborations are discussed and possible alliances are formed. The perfect way to end the day was of course to the visit exhibition floor for a good conversation accompanied by a few typical Dutch snacks and drinks.
Also on the second day Foresight, Canada's cleantech accelerator, signed a historic international partnership with Water Alliance, to stimulate the growth of both the Canadian and Dutch water innovation ecosystems.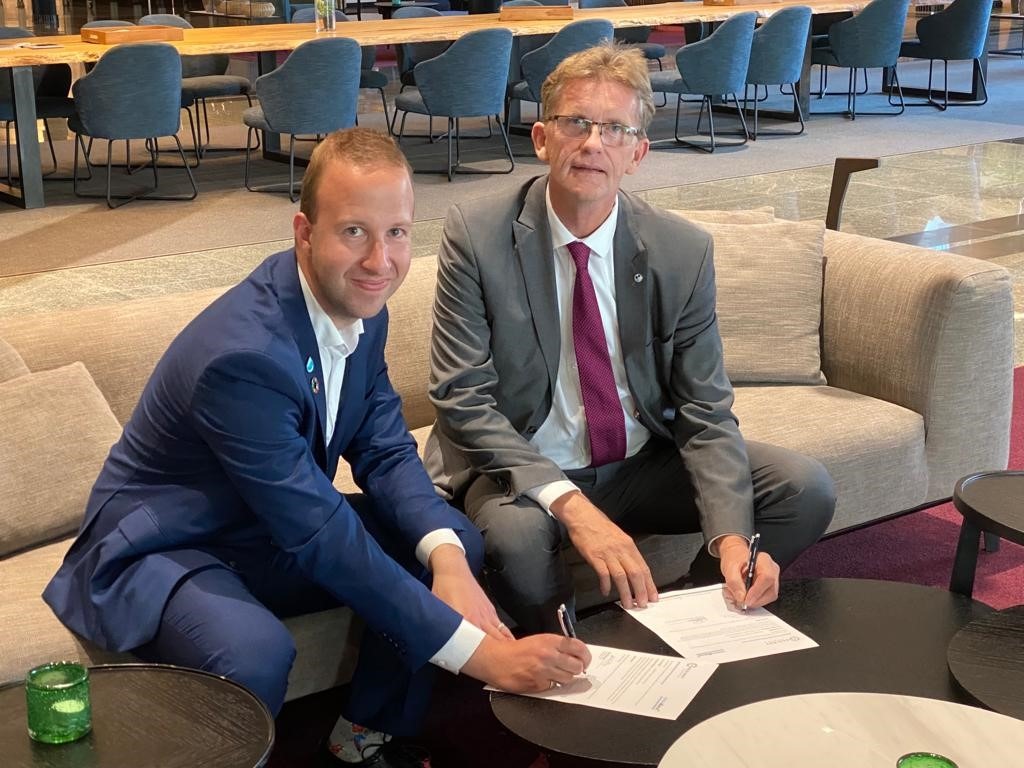 Foresight is excited to be collaborating with Water Alliance to expand their waterNEXT network in Canada, accelerating the commercialization and adoption of Canadian solutions for global water challenges. The new partnership will strengthen trade connections between Canada and the Netherlands, while leveraging the networks and expertise of the organizations to support water technology companies from both countries in securing business and partnerships.
Day 3 of EWTW brought forth the latest and greatest from the Netherlands as 8 𝘁𝗼𝗽 𝗶𝗻𝗻𝗼𝘃𝗮𝘁𝗼𝗿𝘀 faced off for the 𝗪𝗜𝗦 𝗮𝘄𝗮𝗿𝗱 𝗚𝗿𝗮𝗻𝗱 𝗙𝗶𝗻𝗮𝗹𝗲. Who took home the grand prize of €10.000? The nominees did their utmost to convince the jury. Cees Buisman and the other jury members, Riksta Zwart, Cora Uijterlinde and Willem Buijs had a hard task choosing between these pioneering companies. The hosting of the Award was done by Agnes Dirksen and Harro Brons, with an Oscar like ceremony including pitches and a physical award.
In the end there could only be one: Fersol from Meppel based Ferr-Tech, a member of Water Alliance, won the award with its innovative product Ferrate(VI). Co-owner Judith le Fèvre accepted the glass water drop trophy from jury chairman Cees Buisman amidst loud applause.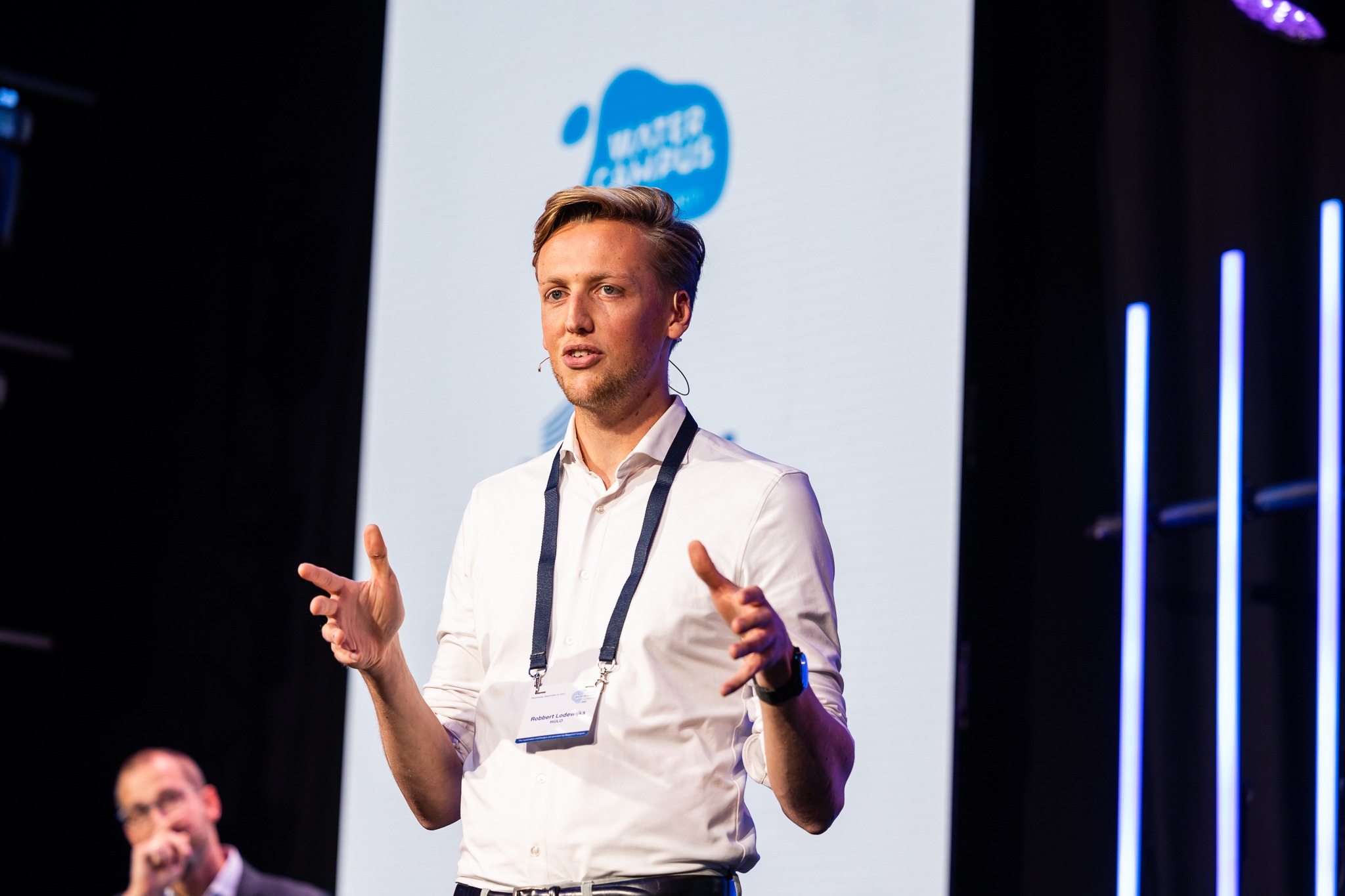 Discover the other nominees:
The fourth and final day of 𝗘𝗪𝗧𝗪 was definitely a change of pace. It offered a unique opportunity to discover how diverse Dutch water tech is, via special bus tours organized by Water Alliance, participants got a first-hand experience what and how water technology 𝗽𝗹𝗮𝘆𝘀 𝗮 𝗽𝗮𝗿𝘁 𝗶𝗻 𝘃𝗲𝗿𝘆 𝗱𝗶𝘃𝗲𝗿𝘀𝗲 𝘀𝘂𝗿𝗿𝗼𝘂𝗻𝗱𝗶𝗻𝗴𝘀.
Starting at WaterCampus Leeuwarden, the physical core of the Dutch water technology sector, the visits go to the various facilities, such as the Water Application Centre (WAC) and Wetsus research facilities providing a clear view of the unique Dutch ecosystem, the big ambitions and their enthusiastic staff. Just like a river, the tours then branched off in different directions with a Resource Recovery, Water & Energy and Water & Circular Economy variation.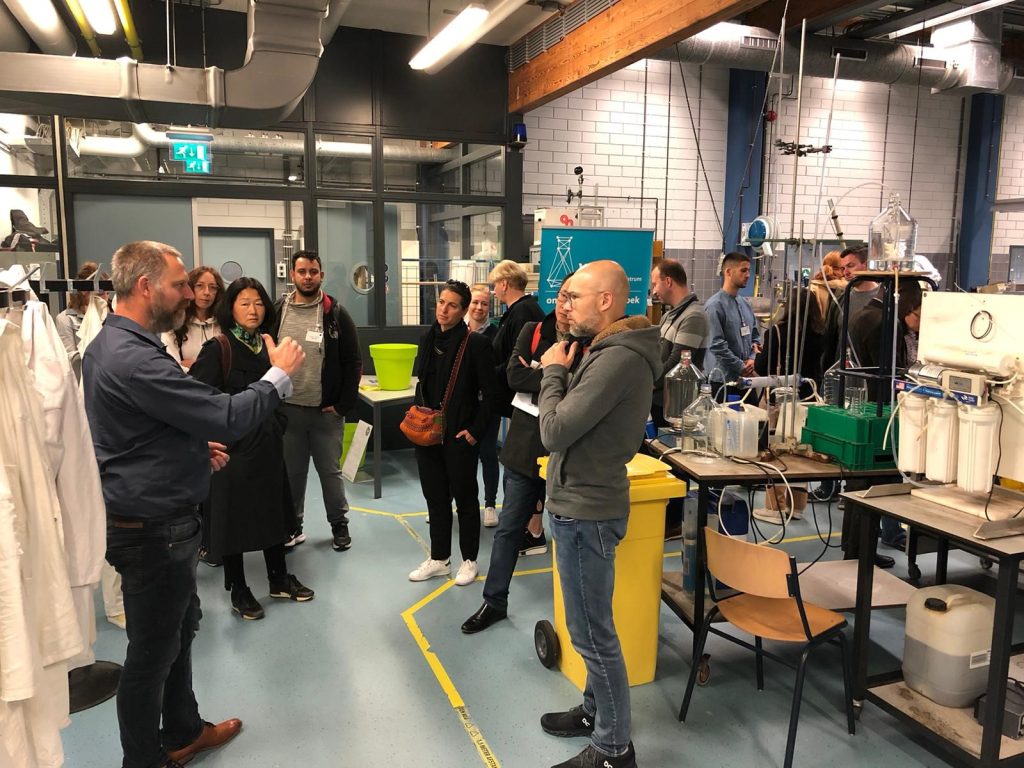 With visits to a WWTP, REDstack BV, Blue energy technology at the De Afsluitdijk, producing electricity from advanced mixing of salt and fresh water, UNESCO Werelderfgoed Ir. D. F. Woudagemaal, residential district Water Schoon Sneek, a local soccer club which uses water twice via Hydraloop systems, the incubator BioBizz Hub in Balk, WaterLab Circular Water , the Floriade Expo 2022, a horticultural exhibition and 'Camp & Surf Markermeer' the tours provide a varied thematic approach that hit the right spot.
EWTW facts and figures:
💧 1 congress
💧 1 exhibition floor
💧 3 awards
💧 3 days
💧 5 plenary sessions
💧 15 clusters
💧 26 parallel sessions
💧 31 nationalities
💧 110 international speakers
💧 500+ visitors per day
💧 countless lasting connections
What a week, it's hard to account everything that went on, for an impression you can best view the after movie. We hope to welcome you during the next edition of EWTW, from 23-26 September in 2024!